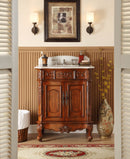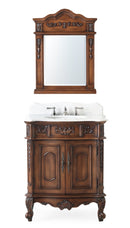 Description


Dimensions: 30.75 x 20.5 x 36.5"H

Elevate your bathroom with the stunning and upscale Bathroom Sink Cabinet, meticulously handcrafted from sturdy wood to ensure lasting quality. The rich cherry wood finish enhances the cabinet's intricate acanthus leaf details, while the hand-polished white marble countertop adds a touch of opulence. This luxurious piece is designed to create an inviting and sophisticated atmosphere in your bathroom.
Product Features:
Expert Craftsmanship: Carefully handcrafted from durable wood, ensuring lasting beauty and durability
Luxurious Finish: Smooth cherry wood finish highlights the intricate carved acanthus leaf details for a sumptuous effect
Imperial White Marble Countertop: Hand-polished for a lavish touch, perfectly complementing the cabinet's rich finish
White Under-Mount Porcelain Basin: Adds an elegant touch and seamlessly integrates with the countertop
Fully Assembled: Sink and countertop come pre-installed by the manufacturer for a hassle-free installation experience
Faucet Compatibility: Designed for use with an 8" widespread, 3-hole faucet set, available separately for $125
Transform your bathroom into a sophisticated sanctuary with this exquisite Bathroom Sink Cabinet, offering both exceptional style and enduring quality.
Benton Collection
Usually ship in 3-5 business days
Curbside delivery only