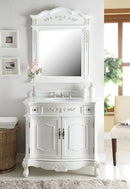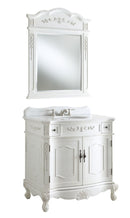 Description
Product Dimensions:

W: 36" x D: 21" x H: 35"
Introducing the Fairmont Bathroom Vanity, a 36" antique white masterpiece that brings timeless elegance and exceptional craftsmanship to your sophisticated bathroom. This exquisite vanity boasts ornate molding and intricate Victorian-style details, from the charming scroll motifs to the outward-facing feet and deep-cut decorative base. The large interior storage space beneath the center cabinet doors ensures optimal organization, making this luxurious piece as functional as it is beautiful.
The premium white marble countertop provides unparalleled durability, crafted to withstand prolonged exposure to humid conditions and ensure long-lasting performance. Embrace the enchanting allure of the Fairmont Bathroom Vanity and elevate your bathroom to new heights of grandeur.
Product Features:
Pre-Assembled Excellence: Fully assembled by the manufacturer, complete with countertop and sink for a hassle-free installation
Refined Antique Design: Antique white finish with delicate brushstroke lines for an authentic, vintage appearance
Spacious Storage: Center cabinet doors reveal large interior storage for all your bathroom essentials
High-Quality White Marble Countertop: Features an elegant ogee edge and natural color variations, birthmarks, or discolorations for a truly unique look (not considered defects)
Durable Porcelain Basin: Includes a white undermount porcelain basin for long-lasting functionality
Optional Backsplash: Enhance your vanity with an optional backsplash available for $65.00 (please call to add)
Faucet Compatibility: Designed for use with an 8" spread, 3-hole faucet (sold separately for $125)
Indulge in the unmatched charm and luxury of the Fairmont Bathroom Vanity, the perfect addition to your elegant, finance-sector lifestyle.